Vacuum cleaners come in different types with different sets of features. Each feature caters to certain needs. You may want to find the best vacuum for tile floors, if your house is mostly or entirely tiled, but that particular vacuum wouldn't be ideal for wood floors and carpeted floors.
In today's article, we'll go through different basic vacuum models available on the market right now. We'll give you a brief introduction of each type as well as its pros and cons.
Upright vacuum cleaners
Upright vacuums come with very similar features to offer the
same benefits. Typically, an upright vacuum consists of a motor, a beater, a hose, and a bag. To provide ease when moving around the house, vacuums come with wheels. A quality vacuum can cost up to $500 but an average vacuum is about a couple hundred dollars.
Upright vacuum cleaners have different height setting allowing you to clean wood floors and carpets floors very well. However, they're can't perform effectively on stairwells as well as have easy access to closets.
Bagless vacuum cleaners
Bagless vacuums allow you to see what they have picked up and let you know if it's time to empty the dirt when it meets the fill line. If you accidently picked up something that wasn't supposed to be picked up, just empty the collection cup. Some bagless vacuum cleaners require cleaning and replacing periodically.
Depending on your vacuum model, emptying the dirt can get really messy. This is because more than often, dust will billow out of the cup, or you need to shake or pull out dirt built up and compressed at the container's base.
Canister vacuum cleaners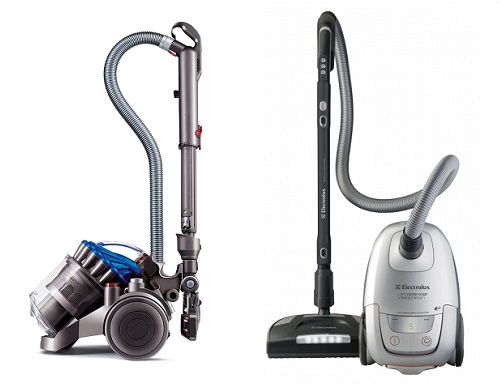 This type of vacuums is great for steps, curtains, vertical surfaces, and especially hardwood floors since they're excellent in picking up things from wooden surfaces. They are designed with a canister which consists of a bag and a motor, and a long hose. Some canister vacuums are portable and smaller or come with beater attachment compared to upright vacuums.
Some upright vacuums and canister vacuums use a container instead of a vacuum bag to deposit debris and dust. Vacuums that don't come with a bag are called bagless vacuums, usually are equipped with HEPA filters for better pollen, dust, dirt particle…removal which is great for people who are allergic.
Stick Vacuum cleaners
People who are living in lofts that have hard surfaces will have trouble handling a full-sized vacuum cleaner. That's when stick vacuums come in handy. Unlike upright vacuums, this type of vacuums doesn't come with beaters and rollers. To deal with tight spaces and hard to reach areas, curtains, furniture, and hardwood flooring, vacuums like the Dirt Devil Broom and the Eureka Broom are the best choices.
Instead of using a bag to hold picked up things, a removable cup is designed in most of the more compact stick vacuum cleaners. Many of them are cordless since the motors are smaller which don't need that much of energy compared to the larger ones.
Handheld vacuum cleaners
This is the most convenient tool when it comes to dealing with small spills. They're small and come with many attachments so you can use them on many surfaces. They are small and portable, and are mostly cordless which is great to be used in your cars.
Robotic vacuum cleaners
This type of vacuums is the most recent vacuum trend. They can help save some work, hassle, and time. They're equipped with dirt sensor to guide their motion.
They can be used for hardwood floors as well as carpet floors thanks to the adjustable heads which can be adjusted to different heights. Many of them come with side brushes which are used to clean around furniture and the edges of the house. Most come with a bagless system making it easy to empty out the collection cup.
There are some problems with these vacuums though. Some tend to close doors locking themselves inside, and they don't clean thoroughly.
Central installed vacuum cleaners
These systems have pipes on the walls. The pipes are connected to a tough motor. That way, you can permit the vacuum to collect dirt in a remote area. Some popular centralized vacuums are the Beam or the Kenmore.
Centralized vacuums are more expensive than an upright vacuum or a canister vacuum, and an installation is required. Sometimes you have to hire somebody to have it installed. The highlight of this vacuum is it's easier to use than a canister vacuum cleaner. All you need is the power head and the hose, no vacuum body required. You won't have to empty the dirt as often too.
Shampooers and carpet steamers
The vacuum's suction picks up dirt from the carpet. If your carpet looks greasy, a vacuum may not be efficient and strong enough. That's when a carpet shampooer comes in handy. Vacuum the carpet once the shampoo has dried. Using a carpet cleaner will be much cleaner compared to when you only vacuum it.
Carpet steamers look like vacuums and are designed with a tank to hold dirt, soap, and water. They utilize soap and hot water to clean carpets. They're easy to empty dirt and move around due to the carrying handles. Instead of beaters, carpet steamers come with multiple rotating heads which agitate the dust from the carpet and deep clean into the nap.
"Hi! My name is Anthony. I'm the editor of Bestvacuumexpert.com.
I hope you find useful in your search for a hardwood floor vacuum cleaner. This site will give you access to a wide range of impartial reviews on different types of vacuums."