I like to have a big house with a big yard in the countryside. In this place, I also want to build in a swimming pool. A swimming pool is a lot of fun, especially in the summer. You can also consider swimming in your swimming pool a good outdoor activity for your kids and other people in your family.
When I cannot afford to have a swimming pool for myself, I often spend some evening in the summer to go to my local pool, meeting my friends and enjoy myself really much there.
Why should you pay attention to what safety features you need have a swimming pool?
Although a swimming pool offers you a lot of enjoyment and delight, it can be also dangerous. First of all, the surfaces of the areas around the pool are so slippery because of the water around them, which you might fall down easily even if you walk on it with a lot of care. Secondly, accidents concerning drowning are rising every year with about 5000 of deaths each year. That is the reason why safety items are installed around a basic swimming pool in order to prevent accidents and injuries from happening.
Here is the list of the most important safety features that every swimming pool should have, regardless of your own pool or the local pool.
Safety Fences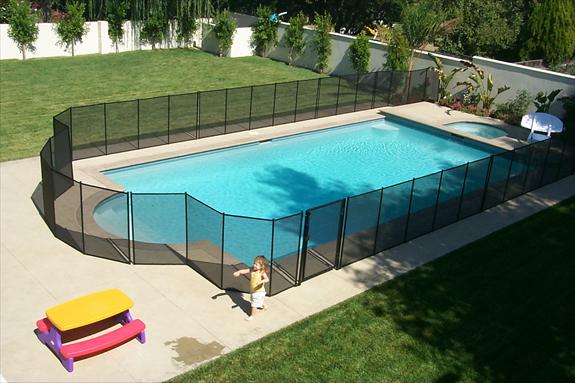 Among the top most important safety features on a list, safety fences are required to have in both local and household swimming pool.
When you install safety fences around the pool area, your babies and toddlers cannot pass over the safety fences to enter the pool, prevent the risk of them falling into the pool and drowning.
When any part of the safety fence is broken, you need to replace it immediately or tell the manager of the local pool.
In case your house or your local pool have a door which leads to the swimming pool, make sure that the lock of the door is installed at a high level when your kids cannot touch it.
Slippery Resistant Decking
As I mention above, one of the main reasons that make a swimming pool quite dangerous is the areas around the pool always being so wet and slippery. These areas are the place where most accidents and injuries happen.
You can reduce the risk of getting these types of accidents by having slippery resistant decking. In order to have a surface which is not slippery, the decking needs to be made with non slippery materials such as pebble and rubber material.
If you need to pick up a type of non slippery material for your own swimming pool, you should invest in high quality one with a long durability so that you don't have to change it too often.
Proper Supervision
This safety feature is extremely vital in case you go swimming in a crowded pool. Make sure that you see a lot of people in charge of looking after swimmers.
Even if you go swimming with your kids at home, you need to pay attention to them all the time and you should not let them float freely without your presence.
Another thing that might come in handy when you go to a local swimming or simply having this activity at home is that you know about CPR training. You can take part in various CPR training offered by local swimming pool and local hospital. The training will equip you with all of the information that you need when someone is drowning or having minor injuries.
Floatation Rescue Device
When I mention about proper supervision, it is also worth mentioning about floatation rescue device. You must have at least 1 floating lifesaver at home. In addition, when you go to a local pool, you should need to check if they have enough.
When you store your floatation rescue device in your household pool, you need to place it in a place where everybody can get access to it. In addition, you should put it in plain sight so you can quickly find for it when you need to.
Good Drainage System
You might think that the drainage system has nothing to do to ensure your safety. However, when it is not in a good condition, it will cause strong suction and drown you easily.
Therefore, it is vital that you check this system frequently to ensure there is nothing wrong with it before you go swimming.
I hope that all of the information above would be able to provide you a broad picture of what you need to have in a swimming pool in your house. Also when you go to local pool, you will be able to pay attention to these details so that you will be safe and are able to enjoy your swimming session to the maximum.